Still writing down your important information on paper, spreadsheets, or google drive so that others can find it later?
Why trust your most sensitive information to medium that has been proven to be subject to destruction or damage by mother nature, human error, and hackers?
Yes, I want to Start My Protection Today
Protect Your Information in Your Own Secure Digital Vaults Accessible from Anywhere
Family Focused
Organized By Essential Aspects of a Family's Life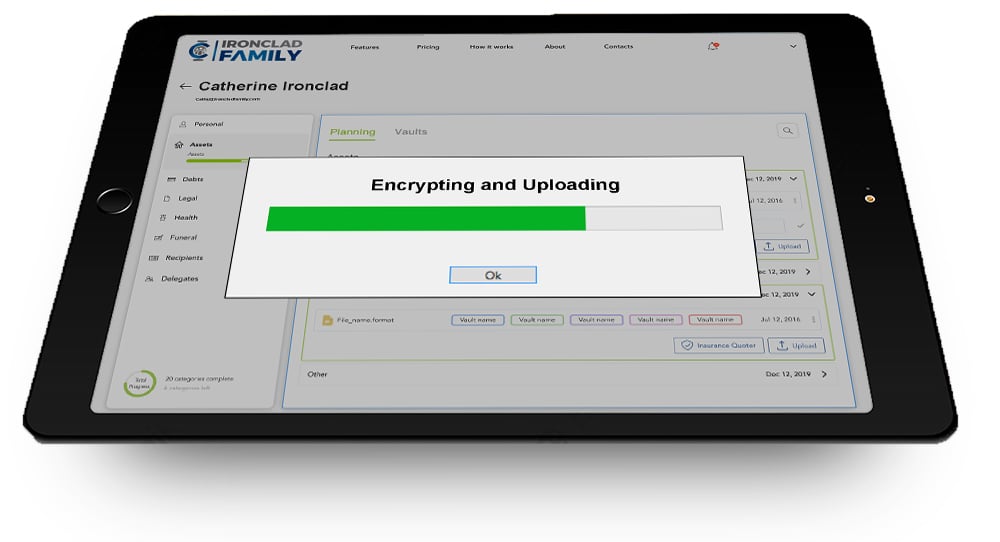 Enhanced Security
Your Information Is Encrypted Then Locked Inside Custom Vaults
Full Control
Protect Your Crypto Wallet, Bank Accounts & Other Financial Assets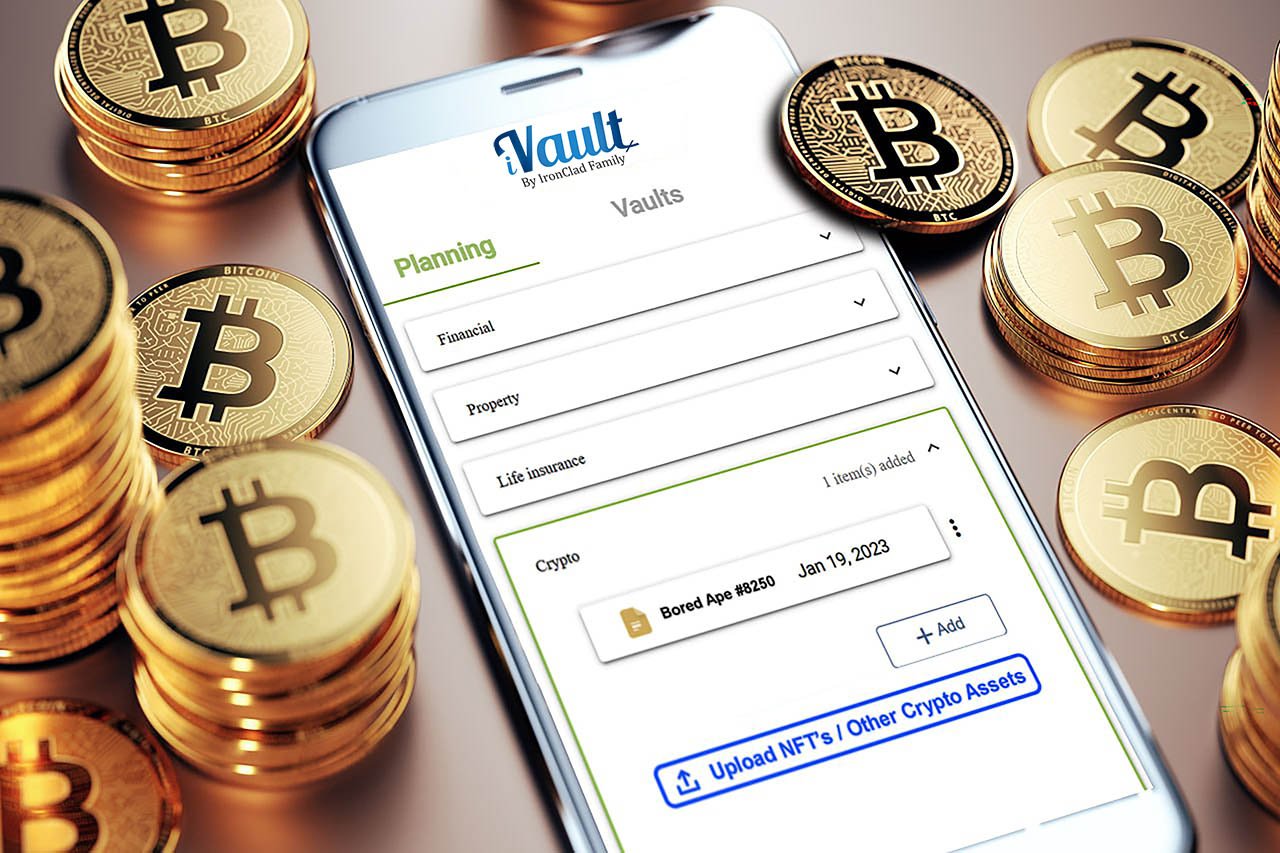 DIY Legal Documents
Will, Health Directive & Power of Attorney Wizards Included
Emergency ID Cards
Personalized Emergency Cards W/ Link to Health Directive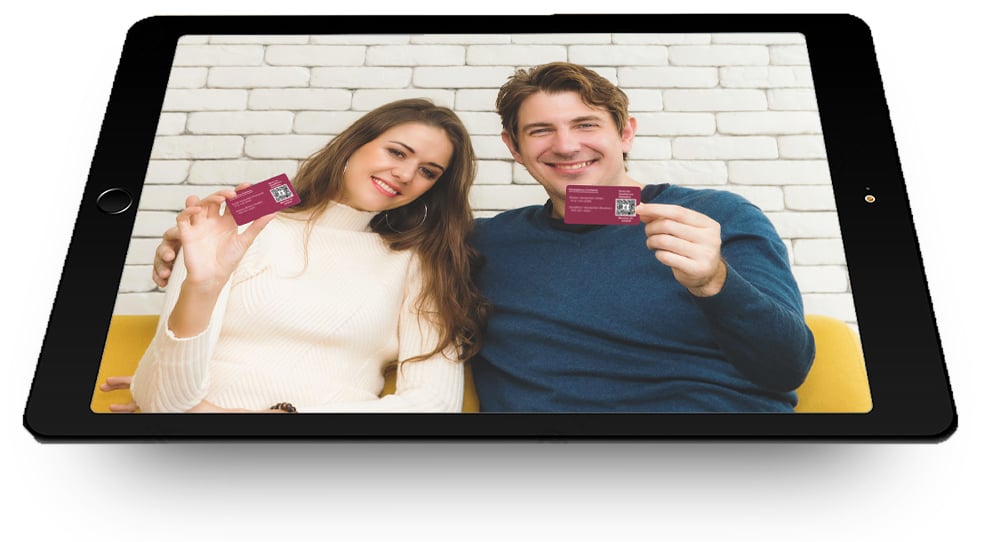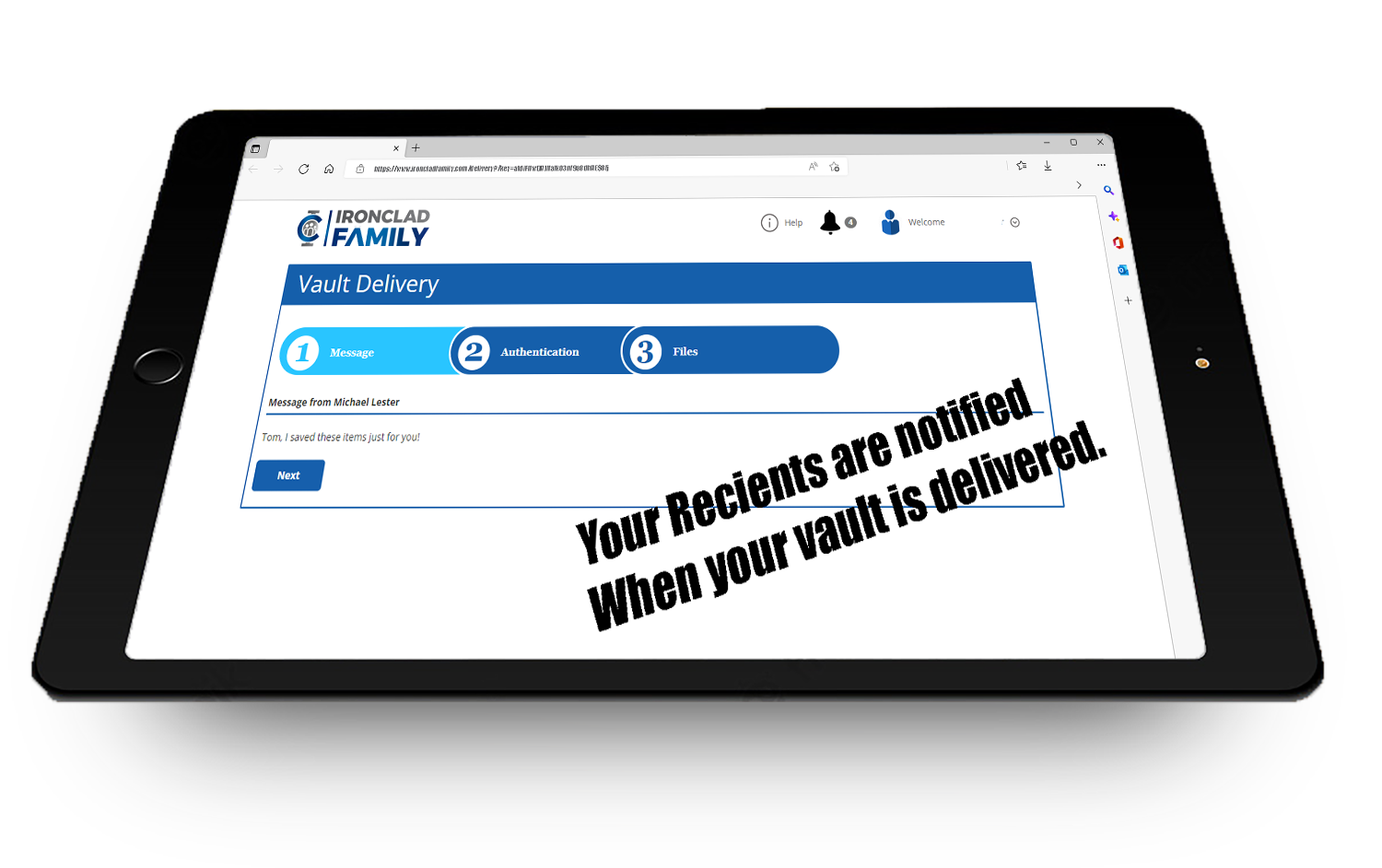 Delivery as Directed
You Decide Who Gets What and When
Our Experts Will Do Everything for You
Our Security-Aware Staff is Ready to Help!
We will send you a FedEx envelope with two-way delivery and tracking to ensure your documents are tracked and safe.
We will scan and upload your documents, into your new encrypted digital vaults.

Your documents will be returned in a fireproof waterproof pouch for protection at home.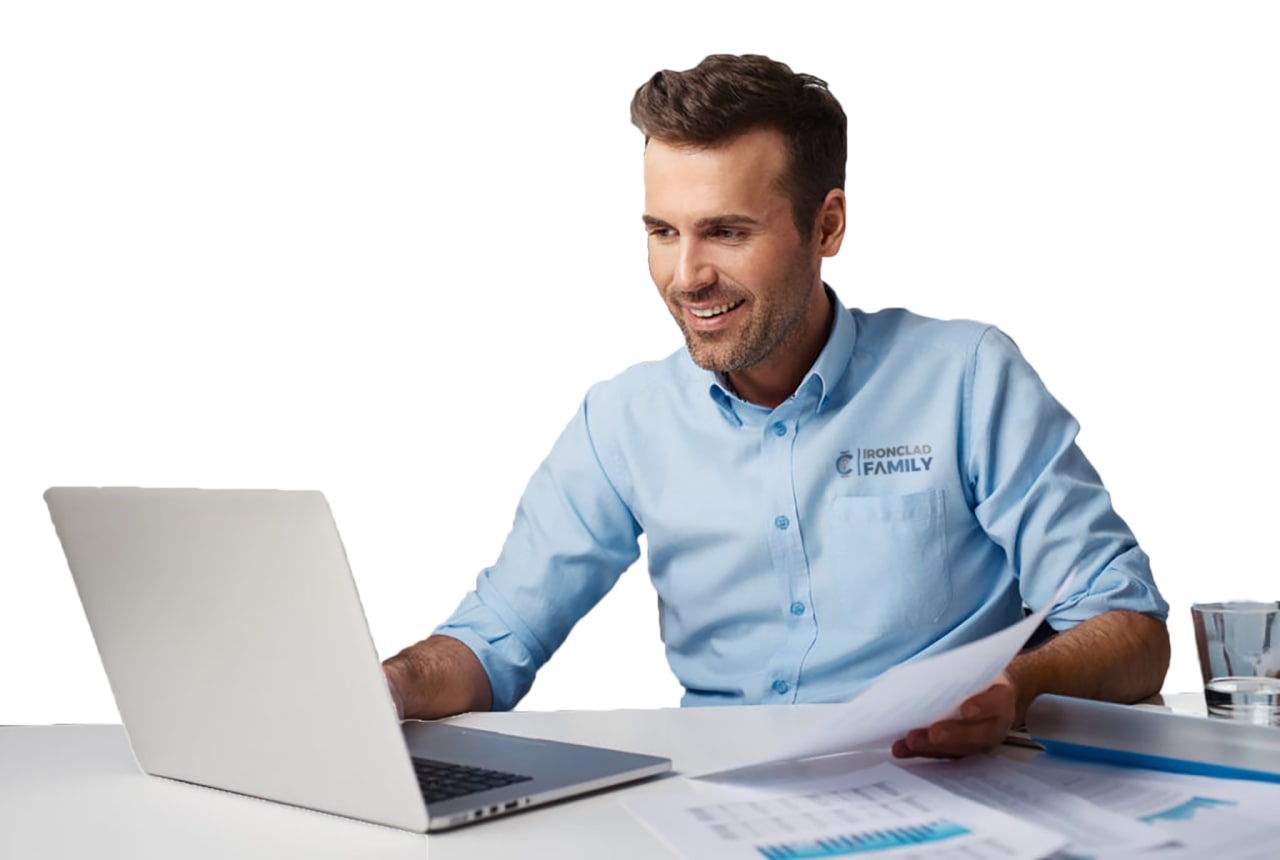 We Include Everything You Need!
CENTRALIZE & SECURE your most important information, including:
Unlimited Vaults
Delivery of any Vault Content to Anyone You Designate
Built-in Estate Documents
Include Financial Accounts
Secure Cryptocurrency Wallet's Private Key
Protect NFT's
Upload Legal Documents
Upload Personal & Business Information
Upload Photos and Videos
Get Personalized Emergency Cards for 2 adults' w/ option to link to heath directive.
Add Instructions/Video Message for Special Wishes
Our Ironclad Family Coaches will be available to support you after your initial setup.
WE'LL RETURN YOUR DOCUMENTS IN OUR FIREPROOF DOCUMENT POUCH.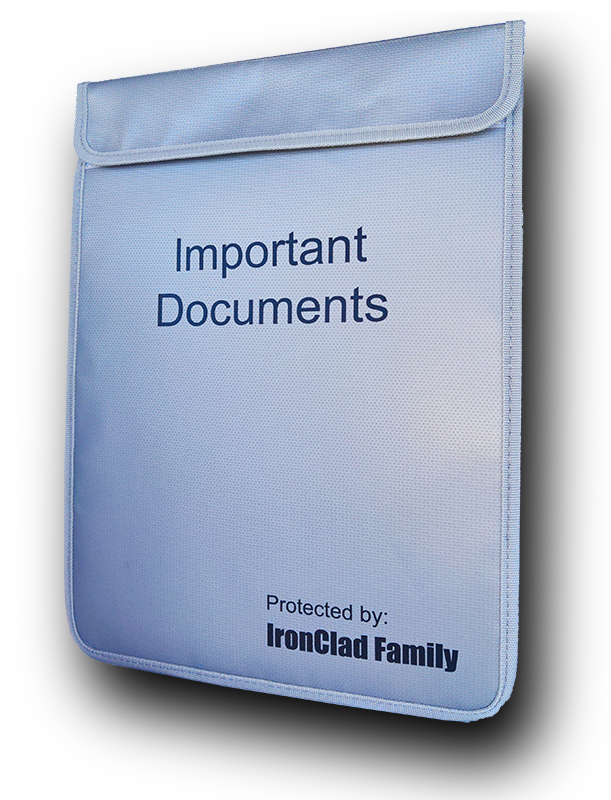 Advanced Security Creates Peace of Mind
You work hard every day to protect loved ones. Make sure they have access to information essential for the family's survival anywhere.
Zero-Knowledge Encryption: Not all encryptions are equal. Unlike cloud storage, we cannot read information you upload.

Unlimited Vaults: Use passphrases to lock information inside virtual vaults, then access, update, and share with family members.

Intelligent & Interactive: Designate who can see the information and schedule delivery of that information to loved ones if you desire.
We've Helped 100's of Customers Like You Kick-Start their Family's Protection Plan!
$
199.00
Limited time offer
Includes the first-year, then $99/Yr , the following years.
INCLUDES:
We will scan and upload your documents, by category, into your new digital vaults

All-inclusive price includes your first-year subscription ($99 value).1

Unlimited Vaults, multiple individual recipients for each vault

Personalized emergency cards for 2 adults w/ link to heath directive ($40 value)2

Estate plan legal documents included ($199 value)3

Designate assets and liabilities with instructions on how to manage either

Include access instructions to websites and social media accounts

We pay for FedEx both ways to ensure your documents are tracked and safe.

Your documents will be returned in a fireproof waterproof pouch for protection at home ($30 value)

Includes personal coaching for 14 days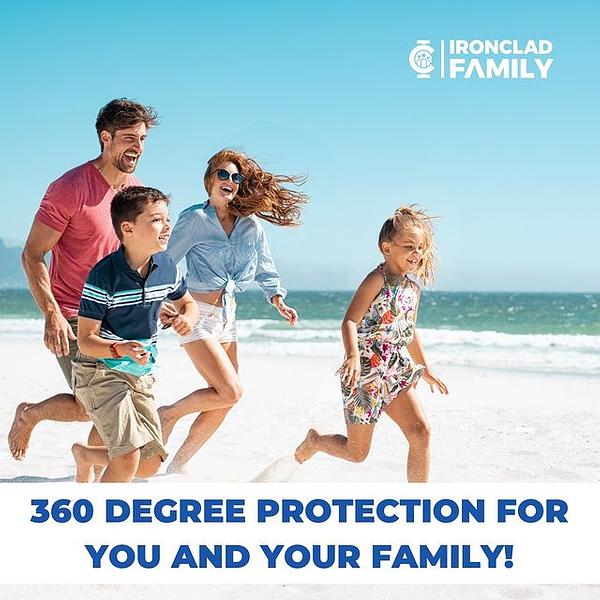 1 IronClad Family will automatically deliver your important information to designated recipients based on date, death or incapacitation.
2 Lawyer-approved online estate planning documents (will, health directive, power of attorney) are provided for you as part of your subscription.
3 A wallet-size health card is mailed to you with emergency contacts, health issues and a link to your health directive for limited access by EMS services and health providers.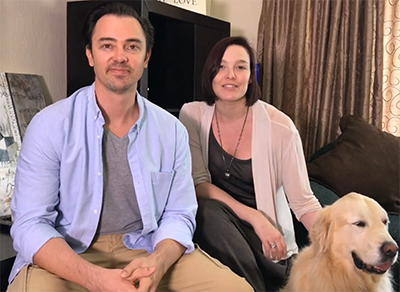 "We didn't know where to start or what to do, but their planners uploaded everything and even helped us add our son & daughter to each vault as future recipients."


LET US HELP YOU SET IT ALL UP!
SIGN UP TODAY ...
And Get the Peace of Mind Knowing Your Information is Secure, and Loved Ones have Access to Everything They need in One Place.
Start My Protection Today!