Life Saving Information is Always Accessible with The IronClad Family Emergency Card
Give Yourself and your Loved Ones Peace of Mind Knowing that in an Emergency, You Will Be Given the Personalized Care You Deserve and Your Loved Ones Will Be Right There With You!
An Emergency Card Right in Your Wallet
You might have a Driver's License, but that doesn't help Emergency Responders know about your medical issues or help contact your loved ones. With an IronClad Family Emergency card, all of your important information is instantly available, your Healthcare Directive is accessible to Medical Personnel, and your loved ones can be instantly notified!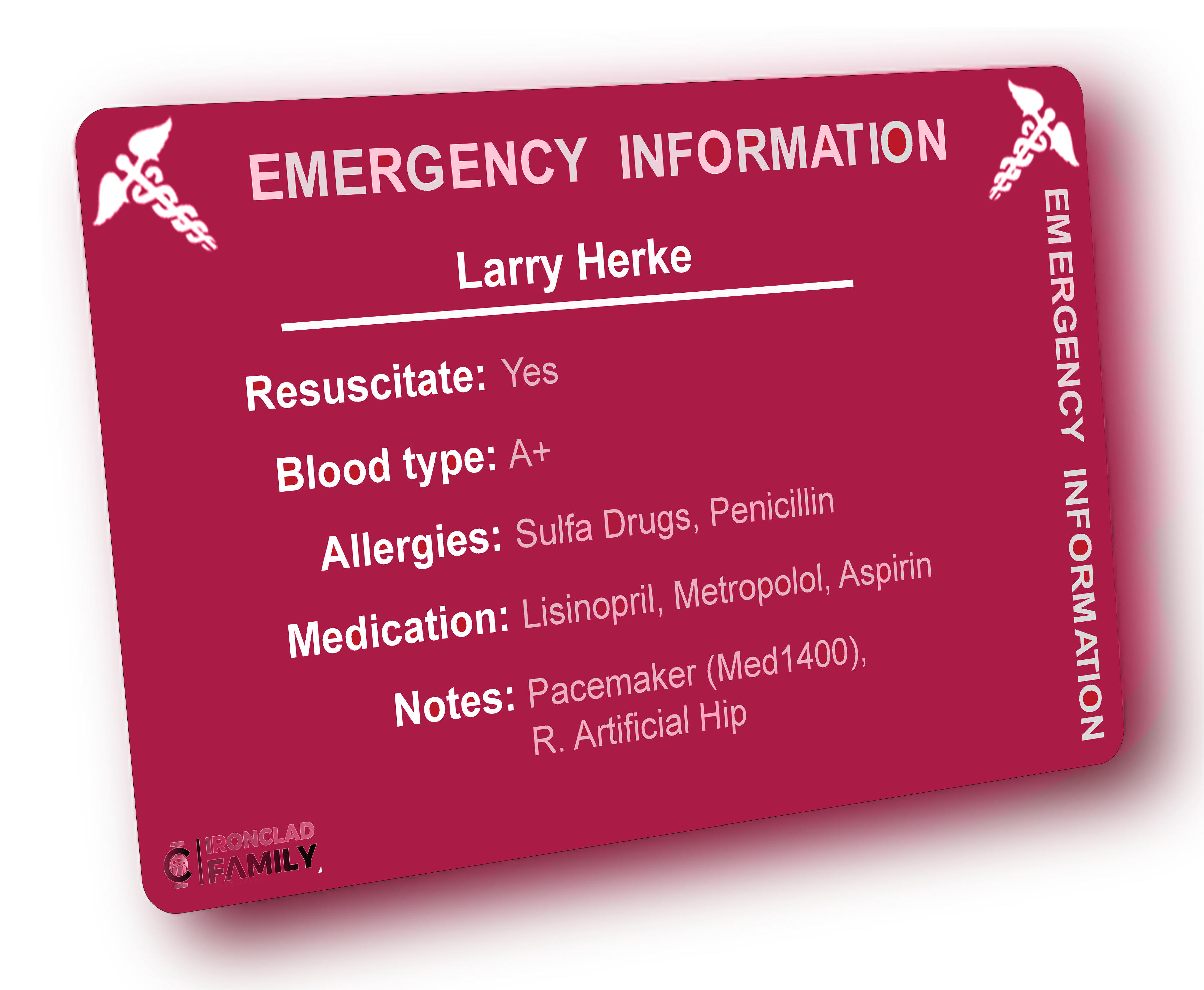 Easy to Find Life-Saving Health Information
Your blood type, medications, allergies, installed medical devices, and names and phone numbers of emergency contacts, are easily visible to anyone providing medical care.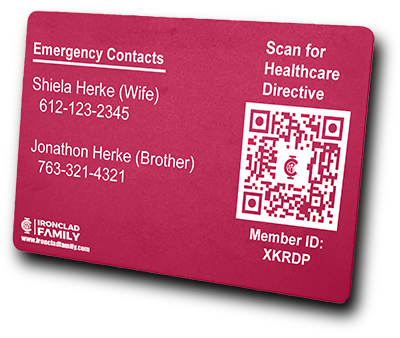 Make Sure Your Wishes Are Known
A barcode on the back of the card will provide answers to health directive questions such as DNR, life support, organ donorship, and name(s) of advocates to make health decisions on your behalf.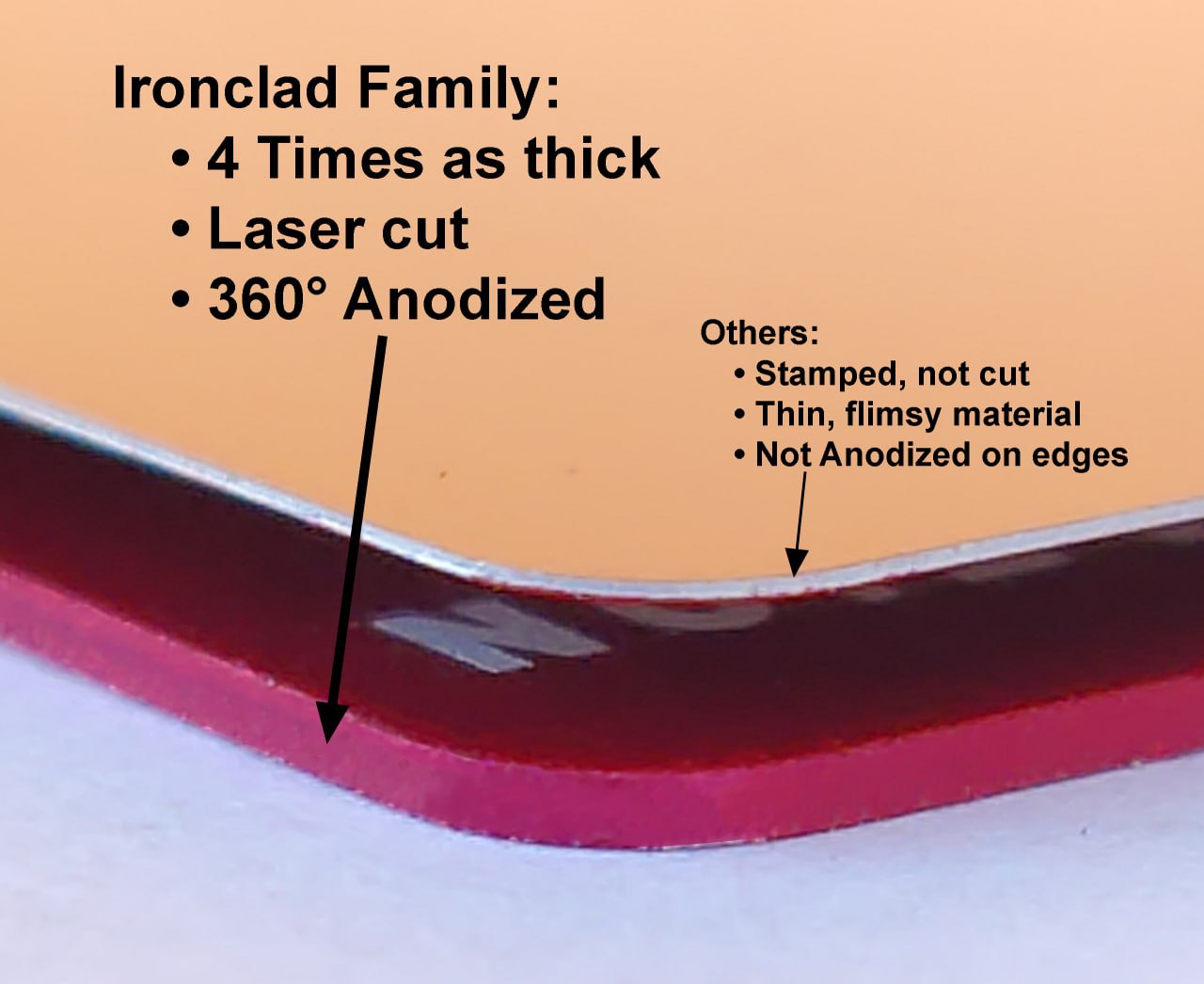 Laser-Eched Indestructible Quality Card
Your emergency card is made from metal, not plastic. We use a bright RED color background to make it noticeable. All information provided is laser etched on front and back to ensure durability.
Getting Started Has Never Been Easier
Just click below and start filling in your personal information. It's really that Easy!
List 2 individuals whom you trust and deem reachable in case of an emergency

List all your allergies and/or possible medicinal interactions

Note any medical device, attachments (such as a pacemaker), or any devices needed to stay with you
List any significant surgeries such as hip or knee replacement (optional)

Answer questions such as care decisions if incapacitated, and designate a health advocate your trust

Just fill out our easy online form, and we'll ship you your own personalized IronClad Family card!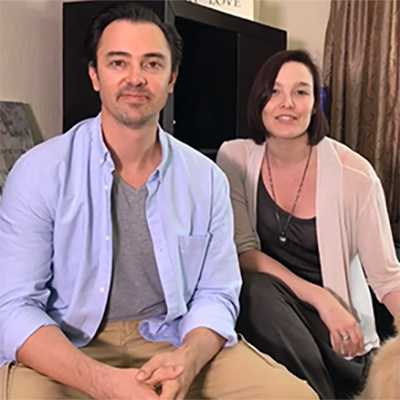 My Emergency Health Card literally saved my life when I was in a car accident a couple of months ago. I had a Penicillin allergy that the paramedics found out about when they saw my emergency card PLUS they were able to get a hold of my wife immediately. Everyone should have this card!"
Eddie S.

Your IronClad Family Emergency Card has Many Uses in Different Life Situations
Let others know about your card. They can help you better when they know what you expect and how to act on it.

Medical Personnel
Present this card to medical personnel so they are instantly aware of your relevant health information.

Emergency Responders
Medical responders can see blood type, allergies, and current medications instantly with no guess work.
Friends & Family
Designated emergency contacts can be aware of the need to update their contact information with you in case they were called to assist.
Travel Agents
Mention this wallet card to your travel agent as part of the setup of your travel insurance.
Estate Planners
An estate planner can help detail wishes in your health directive, which you can link your card for access by Medical Personnel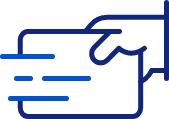 Health Directive Advocate
Share the contents of this card with your designated health directive advocate so they make the right decisions on your behalf.
Need Another Card for An Additional Family Member?
No problem! You can bundle and save when you order 2 emergency wallet cards for you and a spouse, life partner, or any other family member. Order today!
Start Shopping and Save