Plan Ahead for Emergencies
Prepare for emergencies with an Emergency Card and/or an Emergency Vault to speak for you when you can't. Ensure your family is fully ready for any unforeseen events.
Two Emergency Planning Options
Emergency Cards
Give your loved one's peace of mind knowing that in an emergency, you'll get the care you need, and they will be immediately contacted. Give yourself the same peace of mind by providing a card for your spouse, kids, or parents.
You might have a Driver's License, but that doesn't help Emergency Responders know about your medical issues or help contact your loved ones. With an IronClad Family Emergency card, all of your important information is instantly available, your Healthcare Directive is accessible to Medical Personnel, and your loved ones can be instantly notified!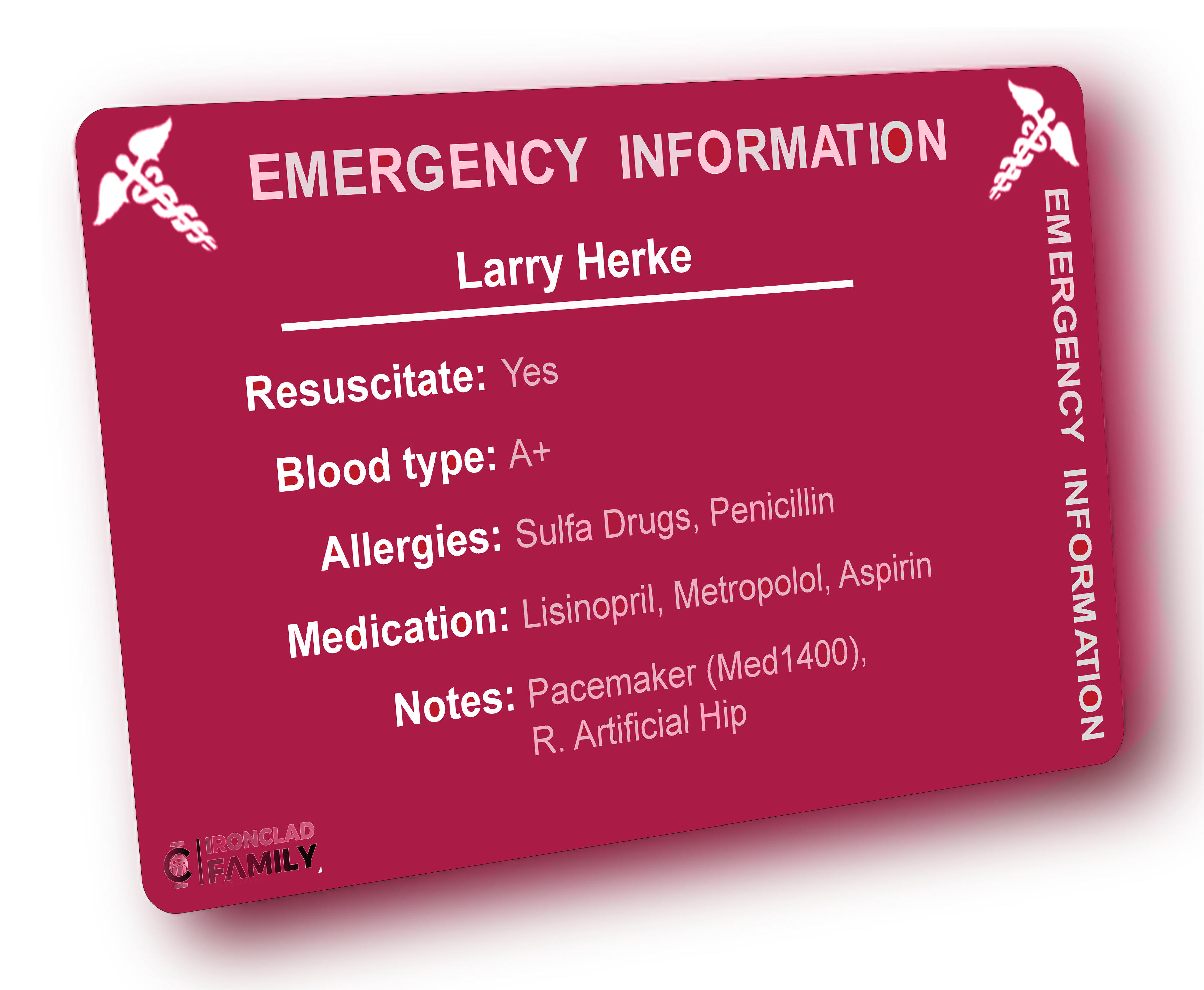 Easy to Find Life-Saving Health Information
Your blood type, medications, allergies, installed medical devices, and names and phone numbers of emergency contacts, are easily visible to anyone providing medical care.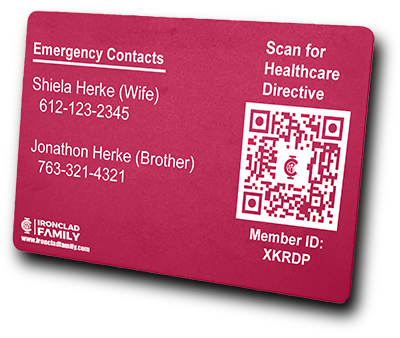 Make Sure Your Wishes Are Known
A barcode on the back of the card will provide answers to health directive questions such as DNR, life support, organ donorship, and name(s) of advocates to make health decisions on your behalf.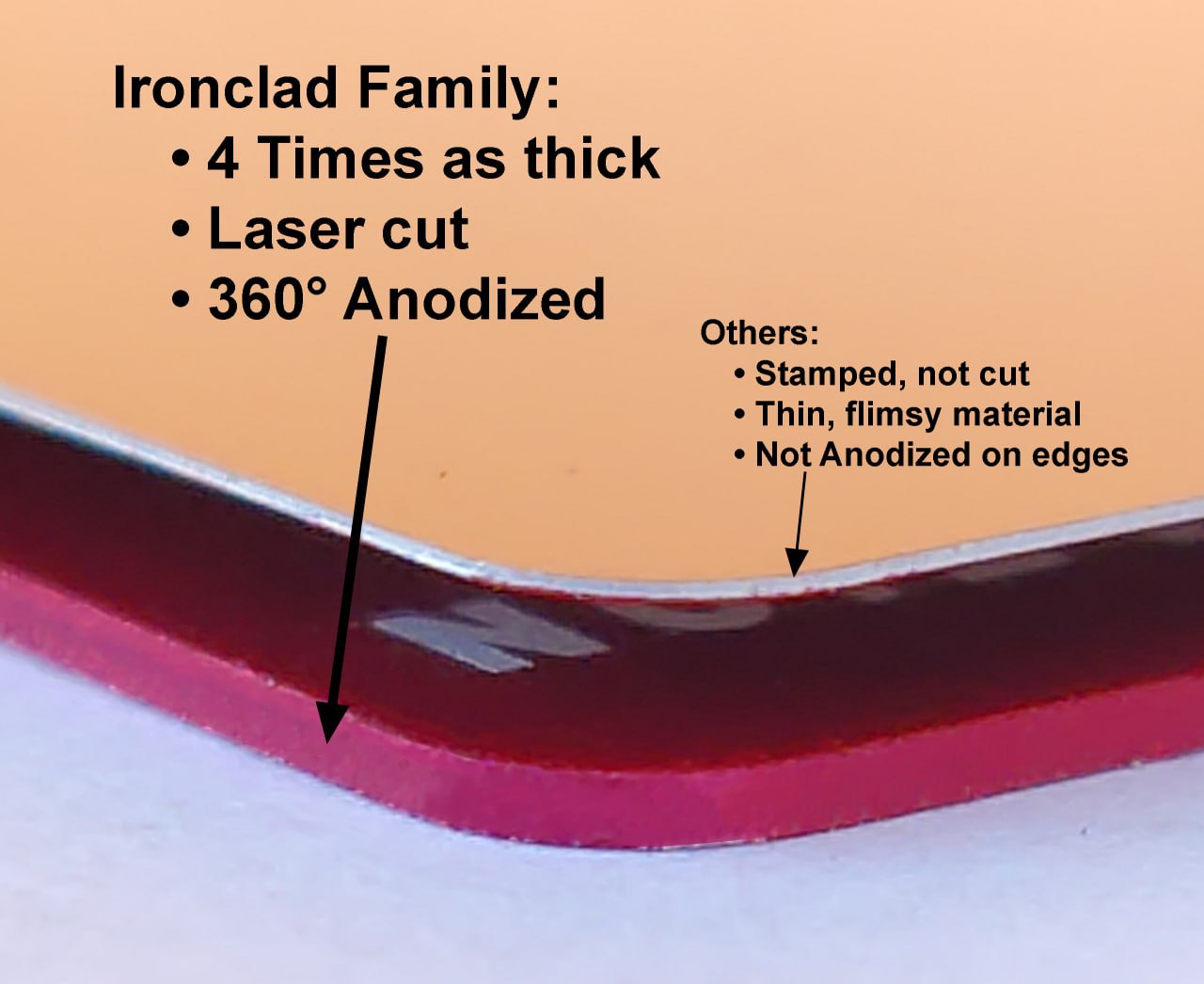 Laser-Eched Indestructible Quality Card
Your emergency card is made from metal, not plastic. We use a bright RED color background to make it noticeable. All information provided is laser etched on front and back to ensure durability.
Option 2: All-in-One Emergency Vaults
Organize important documents in digital vaults accessible to family members from anywhere. Designate when and who received your information. Guaranteed delivery to your recipients as you direct. Includes 2 Emergency Cards.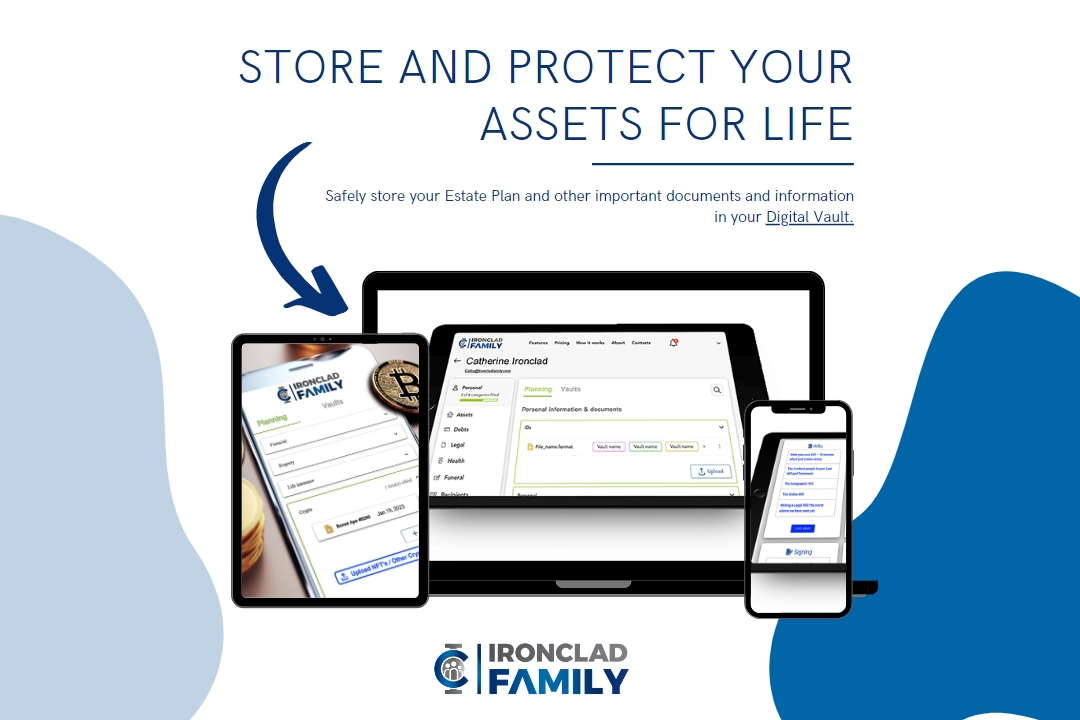 Setup Your Vaults for Ease of Access by Family Members
Organize & pass-on all online accounts, critical documents, and cherished memories to people you trust and love. Will, health directive & power of attorney forms included.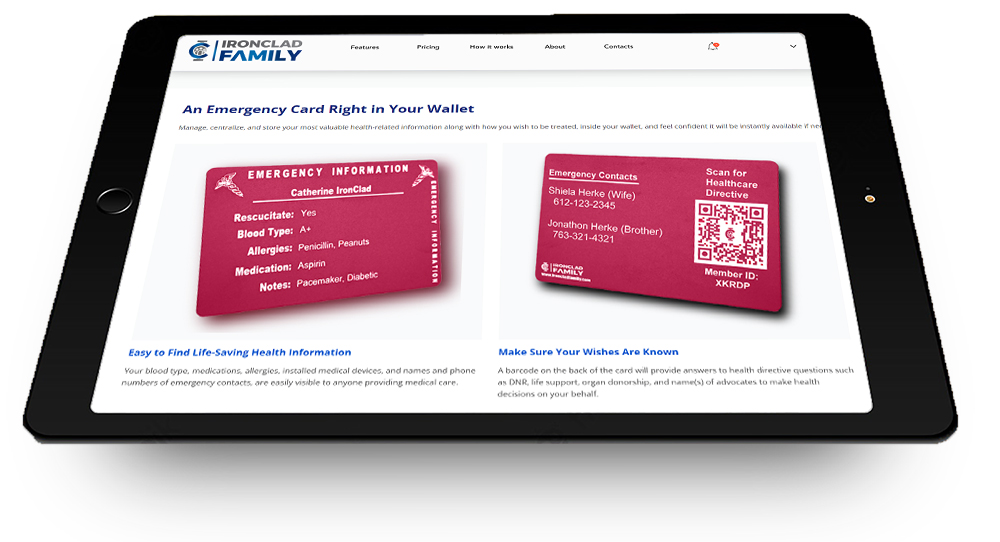 2 Emergency Cards for You & Another Family Member Included
Fill out Emergency card information (similar to option 1) for you and another member. Include any medical conditions, allergies that a medic will need to know. We will engrave and ship to you at no extra charge.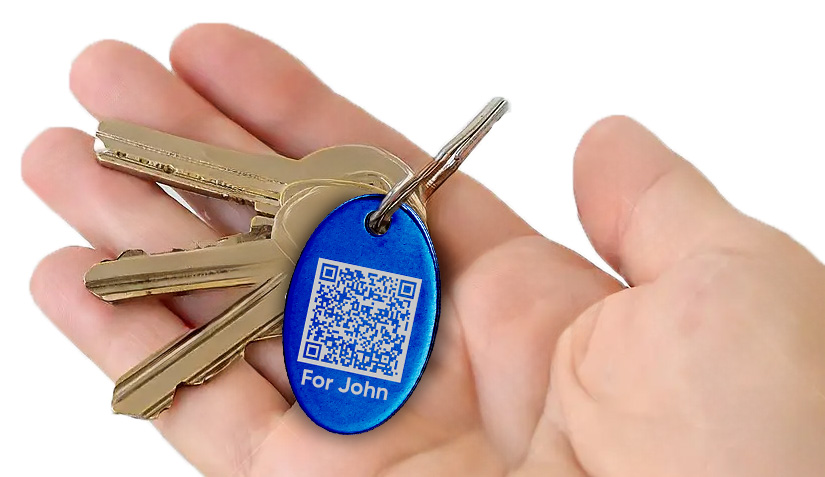 Give Keychain Tags to Each of Your Recipients for Future Access
Protect your information with assigned passcodes. Recipients can easily retrieve designated information by scanning a unique barcode and accessing it online with their passcodes.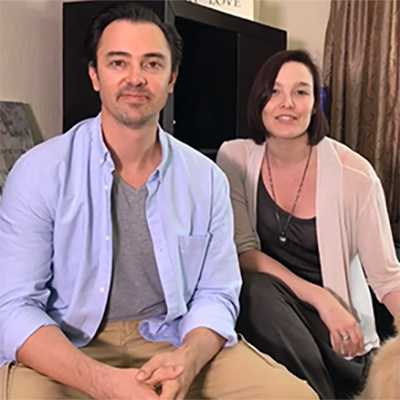 Our Emergency Cards literally saved my life when I was in a car accident a couple of months ago. I had a Penicillin allergy that the paramedics found out about when they saw my emergency card PLUS they were able to get a hold of my wife immediately. Everyone should have this card!"
Eddie S.

Your Emergency Vaults Have Many Benefits

Medical Personnel
Medical personnel are instantly made aware of your relevant health information via your IronClad Family emergency card.

Emergency Responders
Medical responders can see blood type, allergies, and current medications clearly engraved in your emergency card inside your wallet.
Friends & Family
Designated emergency contacts can be aware of the need to update their contact information with you in case they were called to assist.
Other Documents
Emergency planning means everyone in the family knows where everything they need is. Your emergency vault can do that.
Estate Planning
Our included estate planning documents can help detail wishes in your will, health directive and Power of Attorney.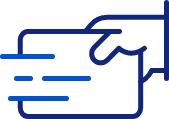 Funeral Planning
Fill out your wishes in provided templates so they make the right decisions on your behalf.
What are the benefits of emergency planning?
Emergency planning with IronClad Family's innovative vaults brings peace of mind, knowing that your family is fully prepared for unexpected situations. Our centralized storage ensures easy access to all important documents during emergencies. This comprehensive planning simplifies coordination and ensures that every family member is prepared when a crisis occurs. Additionally, our checklists encourage proactive preparedness, making it easier to gather essential supplies and follow a structured emergency plan.
What is the need for emergency planning?
By taking part in emergency planning, you have the opportunity to establish comprehensive strategies for a wide range of situations, including natural disasters and medical emergencies. This proactive approach ensures the safety and well-being of your family. With the support of IronClad Family's Emergency Vaults & Emergency Card, the significance of emergency planning becomes even more apparent, as it effectively reduces panic, improves preparedness, and strengthens the safety and resilience of your loved ones during critical times.
Why do we need an emergency response plan in place?
In times of crisis, having an emergency response plan is a must. That's where IronClad Family's resources come in handy - the emergency planning vaults and emergency card. These game-changing tools ensure the safety and well-being of your loved ones by providing easy access to critical documents, contacts, and information. No more confusion or unpreparedness during emergencies. With the emergency card, communication and coordination among family members are streamlined, resulting in a well-coordinated response.
What is the most important part of emergency planning?
A well-organized emergency plan is like having a superhero on speed dial, allowing you to respond swiftly and effectively to unexpected situations. Centralizing critical documents and information eliminates stress and confusion during emergencies. With clear strategies for various scenarios, your family's safety is ensured. The IronClad Family emergency card ensures smooth communication and coordination. Let meticulous organization be your superpower in mitigating risks and ensuring family resilience in times of crisis.
Where should emergency action plans be posted?
Display your emergency action plans in easily accessible and visible spots throughout your home, such as near exits, in the kitchen, and by the family meeting point. Safeguard digital copies in IronClad Family's secure emergency planning vaults for swift access during unforeseen situations. Make use of the IronClad Family emergency card as a digital repository for vital documents and information, ensuring it's readily available to all family members. Share the whereabouts of the emergency action plan with everyone in your household for effortless access in case of an emergency. Leverage IronClad Family's tools for a secure and convenient emergency action plan, providing a sense of peace and preparedness for unexpected events.
What is the emergency planning and community right-to-know act?
EPCRA helps people become more aware and prepared. IronClad Family's emergency planning vaults and card are there to assist individuals and families in creating and maintaining their own emergency plans. They securely store important documents and contacts. By using these tools together with EPCRA regulations, individuals can improve their personal preparedness and contribute to community safety during chemical emergencies and other disasters.
DON'T MISS THIS LIMITED TIME OFFER TO GET EVERYTHING ORGANZIED FOR THE PEOPLE YOU LOVE!
SIGN UP TODAY ...
And Get the Peace of Mind Knowing Your Information is Secure, and Loved Ones have Access to Everything They need in One Place.
Set Up My Emergency Vault